TOCurrently the «El Desbande» team is made up of Olga Vall and Carlos Bauque, sometimes two more teachers, that we meet periodically to be able to monitor and develop the classes and the students. Besides tango, we are united by friendship, the desire to share and enjoy the priceless energy that we generate among teachers, students, friends, dancers and musicians that we pass through the school and that we invite you to share with us.

Academy Name:
The Disbandment
Direction:
Mare de Déu dels Desamparats, 5, 2ª Planta, 08012 Barcelona
Telephone contact:
+34635 80 33 75
Olga and Carlos They are the founders and directors of the El Desbande school since 1999, they direct and coordinate the study program, teach classes and are available together with the rest of the team of teachers to carry out any type of tango event or show with or without musicians.
NAcid in 1971 in Barcelona, she studied classical dance at the Isabel Porcar school from 1975 to 1985 obtaining the basic title of Ballet from the Royal Ballet Academy in London. He dances in the "ESbart Querolà" (Catalan folklore group) during the same years.
From 1999 to 2008 she trained in contemporary dance at Area Dansa, with teachers such as Anne Morin (body awareness), Susan Kempster, Ester Forment, Gemma Díaz, among others.
He began with the Tango Agrentino in 1992, he formed several years with Julio Zurita & Paula Canals.
Conducts seminars with Gustavo Naveira & Giselle Anne (Tango), Claudio Hofman & Pilar Alvarez (Vals), Luís Y Marta Antón (Canyengue) Pablo Inza & Moira Castellano (New Tango), Gisella Navonit, Federico Farfaro And Laura de Altube and Chicho Frumboli & Juana Sepúlveda (Musicality)
And numerous individual classes with Julio Balmaceda & Corina de la Rosa (Vals), Sebastián Arce & Mariana Montes, among others.
He participates in various shows such as "Urbània" and "Luna de Arrabal", and numerous exhibitions.
In 1996 he began to teach at the Bailongu school where he remained until 2002, while he met Carlos Baruque with whom they started a milonga at the Pipa Club in 1997, passing through various venues and starting to do milonga on Fridays at the Casa de Múrcia.
In 1999 they founded El Desbande, and moved to the Gràcia district of Barcelona, where they are currently located, both being directors.
He has elementary level training in music theory, harmony and piano at the Liceu Music School in Barcelona, currently studying and playing the diatonic accordion.
Olga Vall DJ
He has been playing milongas since 1996, in Bailongu, where he started with cassettes, going through CD's until he reached the computer, at the Pipa Club, at La Casa de Múrica, at Desbande and he has participated in Marathons (Blue moon Tango Marathon on 4 occasions and Explotango marathon), in festivals such as Tangoneta bcn, and milongas in Europe and Barcelona, such as the "El Iniferno" milonga in Kracovia, among others.
Profesor, dancer and organizer of tango events, director and founder of the El Desbande school since 1999  together with Olga Vall.
His beginnings in tango were in 1996, training in different cities in Europe and in Buenos Aires with prestigious teachers including Federico Farfaro, Pablo Inza, Gustavo Naveira, Claudia Jakobsen, Pablo Klinsberg, Ricardo Maceíras, Julio Balmaceda, Chicho Frumboli and a long etc
For teaching tango, he also uses his contemporary dance training, as a basis for the knowledge of body structure and movement, a discipline that he has studied and practiced since 1995 for more than 15 years studying in Barcelona in the most important schools. of this discipline. Currently studying Axyx Sillabus in Barcelona with Candela Ramos
He worked as a professional photographer until 2003, with his own studio and published and collaborated in "El newspaper de Cataluña", "La Vanguardia" and the magazine "Ajoblanco", among other publications, in 1996 he exhibited at the CCCB in Barcelona within of the group show "The city of difference".
Works of interest:
2019 Work in Germany teaching and dancing with Sivgin Dalkilic
2018 Work in Germany teaching and dancing with Laia Barrera
2015 Together with Sivgin Dalkilic he dances in Barcelona at the awards ceremony of thea Association of professional dancers (APDC). 3rd Blue Moon Barcelona Tangomarathon (organizer)
2014 2nd Blue Moon Barcelona Tangomarathon (organizer)
2013 Performance of "Happenstance" in the women's prison in Barcelona March together with Olga Vall they give classes and dance at the milonga "Infierno" in Krakow September 1st Blue Moon Barcelona Tangomarathon (organizer)
2012, Representation of "Happenstance" in various stages including "Enclave" center for experimentation and creation of contemporary dance in Deltebre
2011Create together with Anna Bussey "Happenstance", a contemporary dance and tango piece that premiered at the Antic Theater in Barcelona in December, November teaches tango classes in Montpellier together with Olga Vall "Tang'Hérault"
2010-2009- Dance together with Olga Vall on 10 stages spread over different neighborhoods in the city of Barcelona during the Christmas festivities
2009-Participates in June together with Olga Vall in the 4th Baltic Tango Festival, giving classes, creating choreographies for the occasion and dancing in the Lithuanian cities of Vilnius, Kaunas and Kláipeda
2007- Creation of the tango-fusion company "We are not all" that explored a language between tango and contemporary dance, in June they danced "Urbania" at the Les Corts Auditorium in Barcelona Contemporary dance solo "No solo tango" at the 2nd Alternative Tango Festival of Barcelona "Urbantango".
2006- Dance at the 1st Alternative Tango Festival "Urbantango" in Barcelona
2004-April Premieres at the Main Theater of Mahón (Menorca) the show 1.30h with Live Music «Cielo de Arrabal 2003-Collaborates in the 2nd Tango para Vos festival in BCN dance with Diana Baggieri
2002-forms a couple with Gisela Navoni and they create and dance the choreographies of the show Cierto Colores for the Dinosaurios company that premiere in Girona at the Teatre La Planeta. 2001- Organizer and director of the Barnatango festival in Barcelona together with Olga Vall Baila in the documentary film "Tango-Tango" by Jordi Vall Escriú
Between 2000 and 2013- together with Olga Vall giving tango classes and working for various production companies throughout Catalonia.
Lhe passion for dance and her training begin at a very early age for Amaia Zugadi.
Starting with folkloric dances from his land, the Basque Country, where he is part of the Basque dance ballet of his town, training and exhibiting until his adulthood. In her teenage years she enters Monet's dance school, where she learns and exhibits in dances such as jazz, Hawaiian, and modern. A few years later, he began his journey through the Caribbean rhythms (salsa, bachata, chachacha), years in which he also received training in classical dances, contemporary dance and yoga. Until in 2008 she discovers tango, or tango finds her.
Thus, what begins as a passion turns into a professional path, until his path in tango (and in life) takes a turn when in 2013 he moves to Buenos Aires, where he will live 4 years of his life before settling down. in Barcelona. Total immersion in the cradle of tango makes his dance, his classes and his vision of tango acquire much more depth and richness. Perceiving and living tango from there as a cultural expression, alive and in constant transformation.
His search in tango focuses on quality in movement, authenticity in expression and connection with the couple, where the embrace and the music are the protagonists. The embrace, the grounding, the density in the movement and the musicality are characteristic of his dance and also of his classes. He honors and thanks his many teachers in tango, making a special reference to Cecilia Garcia, Horacio Godoy, Silvina Valz, Pancho Martínez Pey and Dana Frigoli.
Creator and dancer of the project "Tango en la Vereda", carried out in Buenos Aires in 2015. She has performed as a dancer in Buenos Aires with Nico Bottega, Ezequiel Merlo and Jorge Frías.
In Europe with German Salvatierra and Seba Farias. In her role as a teacher, it is worth highlighting her love for teaching and extensive experience in different teaching fields. He considers it essential to pay full attention to the basic and specific needs of each student, and that is how his classes are focused. With experience as a teacher in Buenos Aires in milongas such as El Escolazo (Club Fulgor) and La Cachivachería Milonga, along with Jorge Frías, Rodrigo Fonti, Ezequiel Merlo, Leo Mercado. In La Plata (Argentina) with Ulises Delle Ville. During his visit to Lima (Peru) in 2015 he collaborated with Tango Lima Experience, Lucia Ronderos, Washington Pinedo and Julio Alosilla. In Europe he has visited Italy, Switzerland and France (and of course Spain) teaching solo classes and in the company of German Salvatierra, Jorge Frias, Katrin Urwitz, Pierre Chesneau, Sebastian de la Vallina and Seba Farias among others.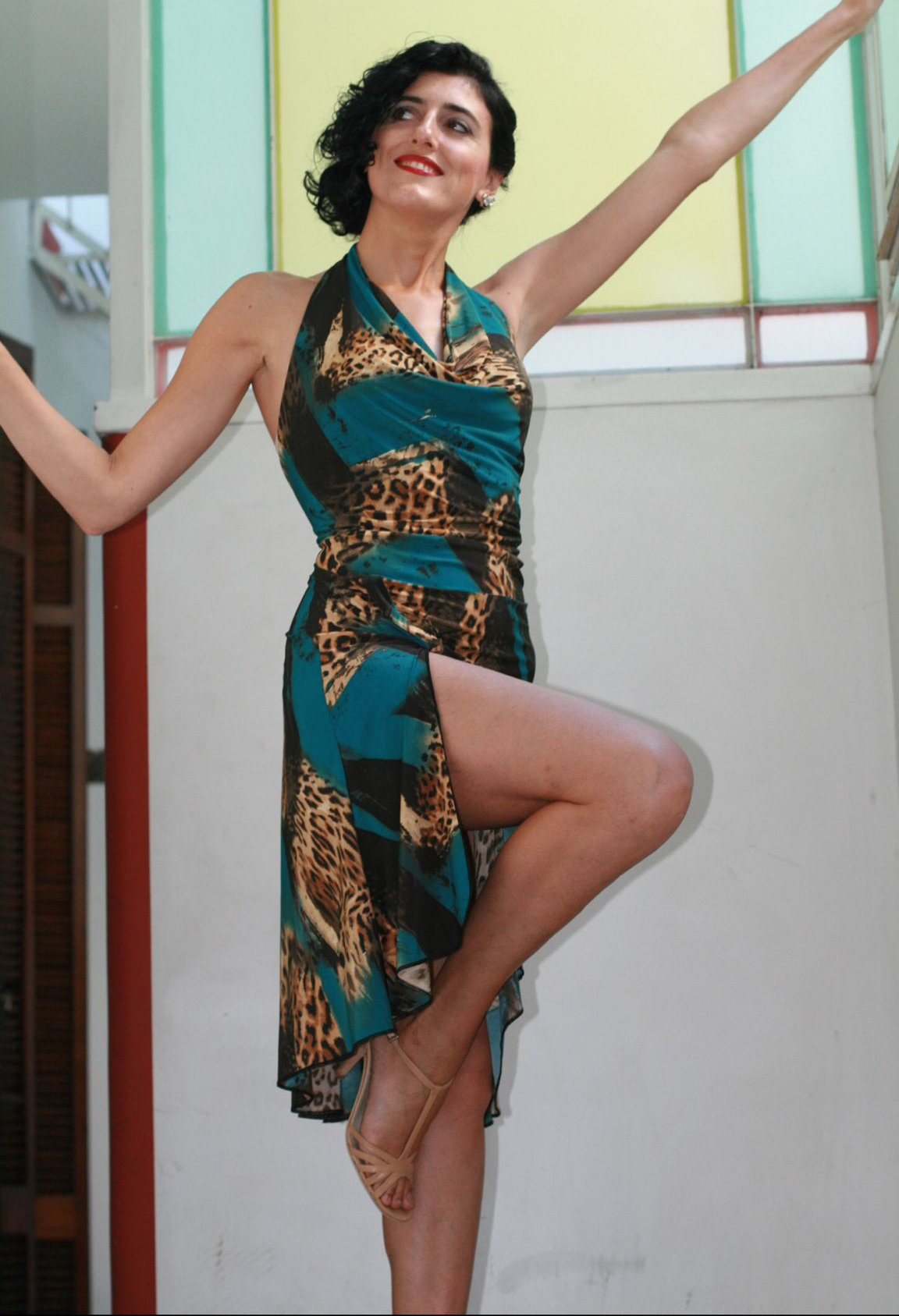 Jekaterina Orshsinoba
Teacher / Dancer