As every year, we adapt our offer of tango classes to summer conditions, so that you can enjoy your free time by including tango in your activities. The format we use for intermediate and advanced courses is the intensive one that you can extend for a month or even three summer months. The same in initiation classes you can do 1,2 or three months.
Summer 2023, July Level 0
Test class Monday July 3  , Inform yourself before
1 day a week €55, as a couple €100
2 days a week €93, as a couple €170
3 days a week €120, as a couple €220
In July we will have several Level 0 schedules, Monday and Thursday from 7:30 p.m. to 9:00 p.m. and Friday from 7:00 p.m. to 8:15 p.m., where in a pleasant and relaxed way we will invite you to learn the basic principles of tango, we will motivate you to put them into practice and we will talk about some of the particularities that you must know to start dancing this fascinating, passionate and sensual dance. These classes will be followed by another intensive in September and with regular classes from October 2023
You will learn the basic step, the fundamentals of the hug, eights and pivots and some simple figure.
Other intensive and summer tango courses of 2023
The milonga it is the basis of tango, although we began to study and practice it once we have the basics of tango, since its rhythm is faster than tango. Disdain, irreverence and sharpness are the general characteristics of his lyrics, always sung in the most genuine slang. At the dance level, more grounded, more on axis, faster, and a lighter hug.  We always say that you have not completely finished dancing the tango, until you learn to dance the milonga.
The crossed Waltz or Creole Waltz, is tango interpreted and danced to the rhythm of a 3×4 waltz, in terms of its lyrics and sound it is more romantic than tango. The characteristics of his dance are the chains, the turns and the absence of pauses, mainly. It is said that when tango traveled to Europe for the first time, it was the waltz that influenced the form of the embrace of the current tango, it also provided circulation on the dance floor.
Orchestras, In July  we will propose a work of knowledge, analysis and interpretation  of some of the most important tango orchestras, We will provide tools for understanding the music, analyzing them in an entertaining, simple and fun way, to achieve a good interpretation on the part of the student that helps to enjoy the tango danced.
July, from 4 to 31
Milonga and Waltz level 1 (N1 and 2)
Tuesday from 7:00 p.m. to 9:15 p.m., 5 hours, €50 per person
Milonga and Waltz level 2 (N3, 3 and 4)
Wednesday from 8:30 p.m. to 9:45 p.m., 5 hours, €50 per person
Level 1-2 Circular on the track 
Wednesday from 7:15 p.m. to 8:30 p.m. 5 hours, €50 per person
Friday from 8:20 p.m. to 9:35 p.m. 5 hours, €50 per person
Orchestras and musicality
Medium level (3-4 tango)
Tuesday from 20.15 to 21.30, 5 hours, €50 per person

September,
Monographs 1st and 2nd week (from 4 to 17), Women's technique 3rd week (from 18 to 24)
Pivots and basic tools N1
Thursday, September 7 and 14, from 7:30 p.m. to 9:30 p.m., €40 per person
Walking alterations and taking out N2N3N4
Wednesday, September 6 and 13, from 7:30 p.m. to 9:30 p.m., €40 per person
Advanced musicianship and interpretation N2N3N4N5
Tuesday, September 5 and 12 from 7:30 p.m. to 9:30 p.m., €40 per person
OLGA TECHNIQUE AND DECORATIONS: 3 days 1 week of 1.30h (N1,2,3,4)
Tuesday 19, Wednesday 20 and Thursday 21
Technique €15 per class, €30 for the three classes
Technique and monographic €50 with a technique class, €60 with 3 technique classes
INTENSIVE BEGINNING WEEKEND September 16 and 17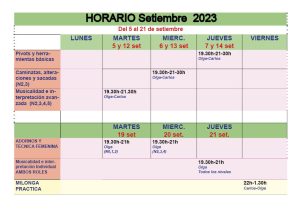 TERMS 
No need to pay tuition. Payment will be made on the first day of class.
You can make up missed classes, at any time of your level or lower

 

In order to coordinate the balancing of the classes and recover them, it is mandatory to notify the absences in advance by WhatsApp, (we will return to the balance class by class at the end of the restrictions) at

 

635 80 33 75, or by e-mail to eldesbande@gmail.com

 

Milonga student contribution – Friday practice €7 (Members)

You can join once the course has started, after consultation, e-mail contact@barnatango.com or call 635 803 375 and we will advise you. 

We comply with anticovid 19 regulations, e-mail

contact@barnatango.com

During the summer after the open house there will be no trial classes, but you can come whenever you want to see a class, the school and our work