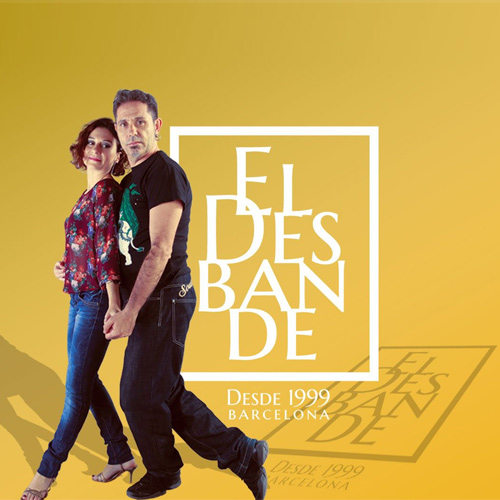 At El Desbande, the benchmark Tango School in Barcelona, we accompany, teach and guide from the beginning of tango to the most expert levels.
We are committed to dynamic classes, full of emotion and learning.
You can check our schedules on the website below or at each level.
We will be happy to answer any questions or queries via WhatsApp or by phone.
Book your first tango class in Barcelona
Tango classes for all levels, with or without a partner.
Since 1999, daily offer of classes.
 Address / Barcelona:
Carrer de la Mare de Déu dels Desemparats, 5, 2ª Planta, 08012 Barcelona, Spain
 Telephone:
 E-mail: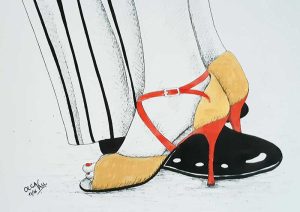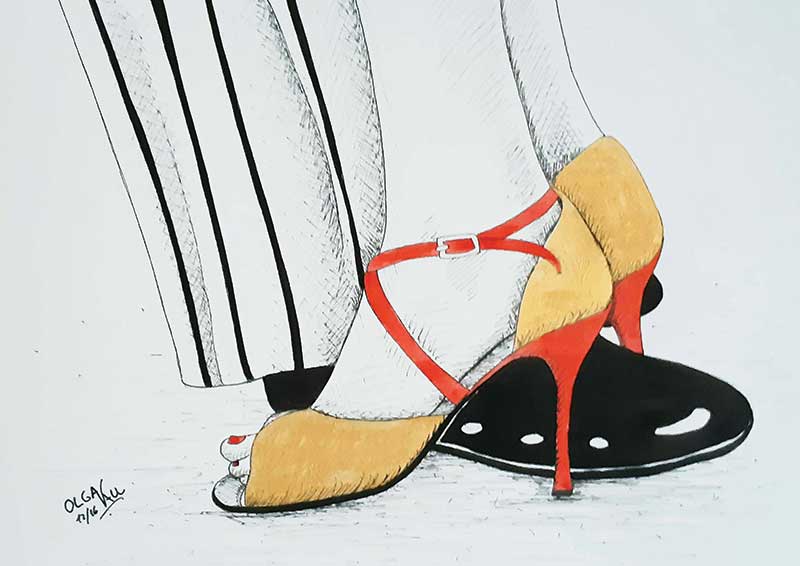 "SANDWICHITO"
18 × 24 Chinese ink & gouache
Olga Vall
What do our clients think?
Very good school to learn to dance tango, for me the best I have tried in Barcelona. Plus, the milongas on Fridays are amazing!
An espai on learn the most obligatory of the world while learning to ballar one of the most elegant balls of the world...
nuria cinnamon garayoa
04/07/2023
Very good welcome, very clear and understandable explanations, correct and friendly teachers, good atmosphere.
jose alcaide paz
03/07/2023
Very relaxed and close atmosphere, ideal to get closer to tango. Carlos and the teachers are very patient, available and eager to share their knowledge. I had signed up for an intensive course out of curiosity and now I continue every week to learn more. Absolutely recommended!!
Close, friendly and good people. I'm having a great time.
An amazing tango school and milonga! Carlos and Olga are top-notch instructors and there is a great, warm and inclusive vibe at the school and the milonga. I highly recommend 🥰
Rebecca Gheiler
13/06/2023
Learning to dance tango was a dream I had since I was a child and now I am enjoying it like never before. The fact of going without a partner stopped me, but it hasn't been an impediment because Carlos organizes it very well so that you always have someone to dance with. This has given me the opportunity to meet great, healthy people who want to learn and have fun. Carlos and Olga are wonderful teachers who, in addition to encouraging you, correct you with tact and always offer a multitude of activities: from book presentations on tango to painting exhibitions (Olga is a great artist) through biweekly practices, intensive courses, monographs, quarterly student parties and the unbeatable Friday night milongas. I definitely recommend it, signing up for Desbande has been the best decision I have made in a long time. I encourage you to enjoy music and dancing in good company.
Bus | 114, 22, 24, 33, 34, 6, H8
Train | R2N, R2S, S2, S6, S7
Subway | L3, L4, L5
SCHEDULE AUTUMN 2023
START OCTOBER 2 FINISH DECEMBER 22
HOLIDAYS: OCT 12 / NOV 1 / DEC 6 and 7
MONDAY
TUESDAY
WEDNESDAY
THURSDAY
FRIDAY
SATURDAY
LEVEL 0

20.30 - 21.45

Olga / Carlos

LEVEL 1
LEVEL 1/2

20.20 - 21.35

Olga / Carlos

17.30 - 18.45

Amaia / Jekaterina

LEVEL 2

19.00 - 20.15

Olga / Carlos

19.15 - 20.30

Olga / Carlos

LEVEL 3/4

20.15 - 21.30

Olga / Carlos

MILONGA / PRACTICE

22.00 - 01.30

Olga / Carlos

19.00 - 21.00

2nd and 4th Saturday of the month
Do you already know our new site
Online Courses website?
Create an account
See all available courses
Choose one of the two subscription options
Make your payment
And ready! You can start your online learning!