TOWarm and relaxed atmosphere, resident DJs Olga Vall, Fernando Corrado, good traditional tango cocktail. Air conditioning, international DJs. Located in the Gracia neighborhood, in the center of Barcelona, with many and varied restaurants around it, as well as a good cultural and leisure environment both during the day and at night. Very well communicated.
The Milonga «El Desbande», as we have already said, has been taking place almost without interruption every Friday since 1999. She is one of the deans of Barcelona. Every Friday we have the presence of a tango DJ, resident in Barcelona or any other city in the tango universe. Our milonga is internationally known for its warm and relaxed atmosphere and its cosmopolitan character.
At the moment reservations by WhatsApp please, 635 803 375, limited capacity.Taking into account the latest restrictions and the uncertainty of the last days, we are not sure of this forecast, it is best that you consult before, exclusively for Whatsapp at 635 80 33 75, NEITHER E-MAIL, NEITHER FACEBOOK, NOR INSTAGRAN, please, thank you 
From 10pm
The Milonga is held every Friday in the central Gracia neighborhood (Barcelona).
December 2021 Schedule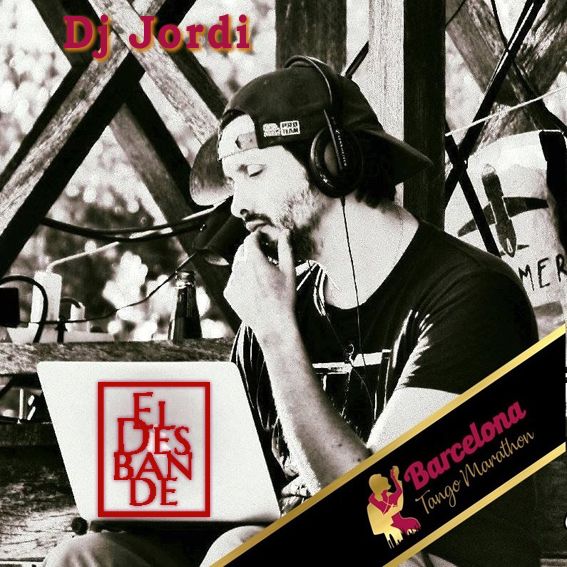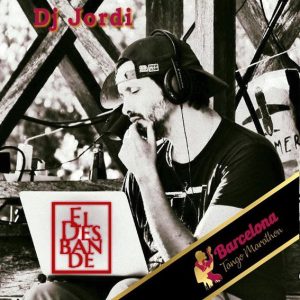 12/3/2021 Dj Jordi Bugues
Jordi had his first encounter with Tango in 2010, their first steps both in the milonga of the pipa club and in the biocenter. He has taken lessons with a great variety of teachers and has traveled twice for 3 months to Buenos Aires, where he began to understand a little the density and depth that Tango has in him and in people. in local milongas as in some events in Europe.
In a milonga what he seeks is to generate dynamics, both rhythmic and melodic according to the time, the audience and the state of the track.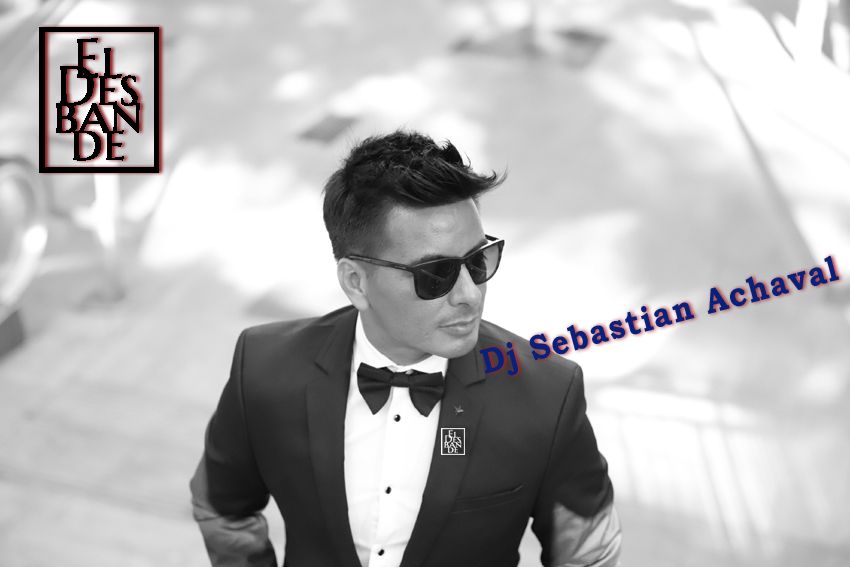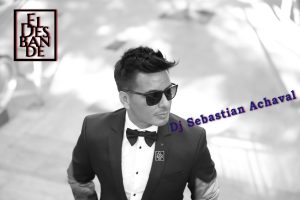 12/10/2021 DJ Sebastian Achaval
Sebastian es bailarín y profesor de tango, de renombre y prestigio contrastado, residente, por suerte para nosotros, en Barcelona, en la web que comparte con Roxana Suarez, su compañera de baile y residente también en Barcelona dice, que pertenece a la generación joven del Tango Salón, cuyo estilo combina la estética y la tradición de los años de esplendor del 2×4, con una visión y técnica más actuales. A través de una constante búsqueda, logramos una identidad propia que se caracteriza por su elegancia, precisión y expresividad. Nosotros decimos, ¡¡ pónganos a bailar Achaval , como tu sabes, con gracia, elegancia y mucho arte!!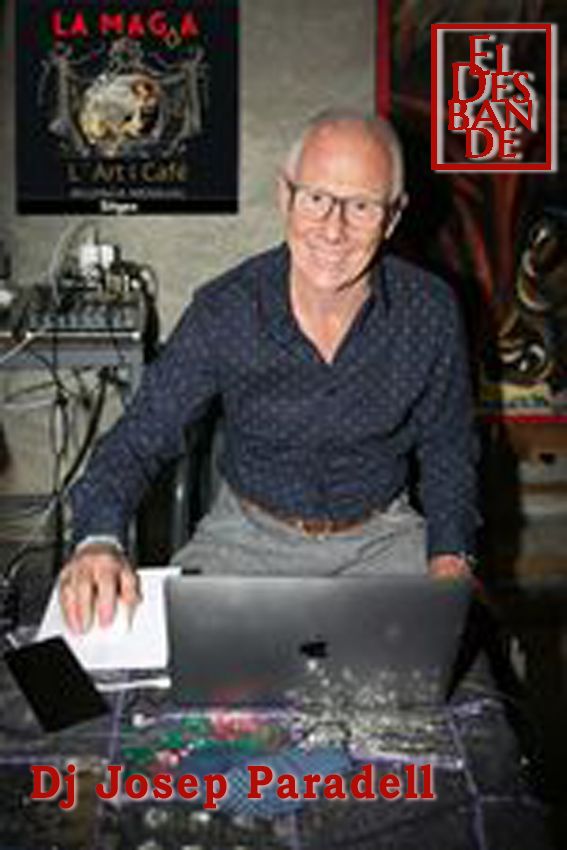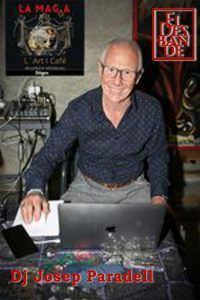 12/17/2021 DJ Josep Paradell, 
Josep is passionate about tango, a dancer for fifteen years. He became interested in musicalization with Félix Picherna, studied as a DJ with Toni Barber, Damián Boggio, among others. He has played in almost all the milongas in Barcelona, in Reus, Sitges, Tarragona, Terrassa, Valls, in the Gardelianos festival etc. And in a pandemic he misicalized the confinada milonguita
24/ 12 / 2021   Christmas, there will be no milonga 
12/31/2021 New Years Eve | New Years' Eve | Nouvel An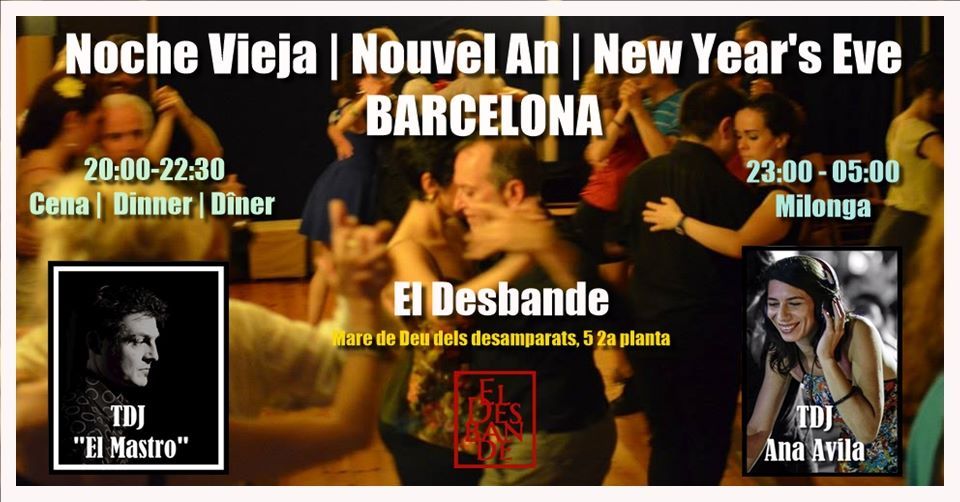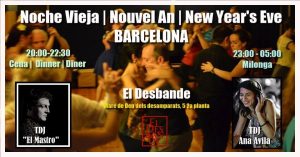 Come celebrate this new year with us at El Desbande!
From 20:00 to 22:30, dinner including starter + 2 dishes + dessert + 2 drinks
From 23 to 5 hours, milonga with 2 excellent DJs: Ana Avila and Sylvain "El Mastro"
And at midnight, we respect tradition by eating the 12 grapes, accompanied by bubbles!
Milonga alone: € 15
Milonga + dinner: € 50
Milonga: max. 70 persons
Dinner: max. 35 people
And for those who want to extend their stay, there are also milongas scheduled for January 1!
Dinner menu
Incoming:
Gourmet fried mix.
OR
Vegan skewer, specify if you are vegetarian
1st course: To choose
Catalan consommé.
(with vegan option) specify if you are vegetarian
OR
Seafood Cocktail
2nd course: To choose
Beef tenderloin with truffle sauce and piquillo peppers
OR
Fish Zarzuela
Vegan option: specify if you are vegetarian
To choose
Mix of vegetables and mushrooms.
OR
Timbale of vegetables.
Desserts to choose
Coconut Pudding
OR
Pears in red wine
Drinks to choose
2 glasses of red, Rivera de Duero or Rioja
or
2 glasses of white, Verdejo or Chardonnay
OR
2 beers
OR
2 waters ½ liter
Only for Members.

Limited capacity, reservation is essential

Contact us for more information. whatsapp 635803375

Air purifiers,
If you feel unwell, stay home
Security measures (sanitary)
Shoes exclusively for practice 

We will use 15 minutes every hour to disinfect surfaces and ventilate.

Liquid to disinfect hands distributed throughout the room,

Disinfecting shoes to enter the room

Safety distance between pairs

Bring your mask 

If you have a fever or symptoms stay home

If you contract the virus, notify when was your last day of class or milonga

Respect the distance when entering and leaving the room.

You can bring your towel for the sweat
Pour a few drops of bleach after using the bathroom, (available in the bathroom)